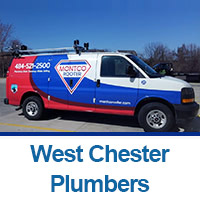 Monto-Rooter Plumbing & Drain Cleaning is ready to serve you with fast, effective plumbing service in West Chester. Our skilled plumbers have the tools and experience to provide quality plumbing service whenever plumbing troubles arise. We know that plumbing emergencies can occur any hour of the day or night, so we're here when you need us with 24-hour emergency plumbing service at no additional charge.
Whether you are having issues with a drain, toilet, water heater, or anything plumbing-related, give us a call. We will promptly dispatch a plumber to your West Chester home to get your plumbing issue fixed properly.
Schedule your appointment now!
Call us at (484) 521-2500 or
Schedule Online
Our plumbing services include:
Water Leak Detection
Sewer Line Repair & Replacement
Gas Line Repair & Replacement
Repiping
Sump Pump Repair & Installation
Ejector Pumps
Sewer pumps
Camera Sewer Line Inspections
and more
Drain Cleaning
Drain troubles? If you are experiencing a clogged or a slow drain, you can count on Montco-Rooter to provide fast relief. Our friendly and licensed drain clearing experts are ready to help 24 hours a day. From small clogs to large blockages, our plumbers be able to determine the cause of your issue and provide an effective solution. We have the equipment and experience to clear clogs so your drain issues will soon be a thing of the past!
Expert Plumbers in West Chester, PA
Whatever plumbing problem you are experiencing in West Chester, we are staffed with local plumbers that are ready to help! We pride ourselves on providing friendly, affordable, and effective plumbing service you can depend on. Call us anytime, day or night, weekend or holiday, and we will send an expert plumber right over!