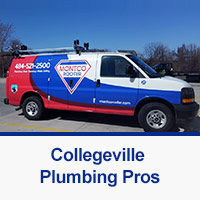 Monto-Rooter Plumbing & Drain Cleaning is the company you can depend on whenever a plumbing issue occurs in your Collegeville home. Our expert plumbers will provide prompt, quality plumbing service at an affordable price. Since plumbing problems can occur any hour of the day or night, we are ready to help with 24-hour emergency plumbing service at no additional charge. When you call us, our team will work hard to meet and exceed your expectations. We provide upfront pricing rather than hourly rates. That way, you will know the cost prior to the start of the job and there will be no surprise hidden costs at the end.
With our commitment to customer satisfaction, we go above and beyond to exceed your expectations. When you choose us for your plumbing services, you can expect transparent and fair pricing. Unlike hourly rates that can leave you guessing about the final cost, we provide upfront pricing for complete transparency. Our goal is to ensure that you are fully aware of the cost prior to the commencement of the job, eliminating any surprise hidden charges at the end.
Whether you are having issues with a toilet, sewer line, or are experiencing the pain of a clogged drain, give us a call for fast, local plumbing service in Collegeville. We will dispatch a plumber to your home to get your plumbing problems resolved promptly.
Schedule your appointment now!
Call us at (484) 521-2500 or
Schedule Online
Our Services
General Plumbing Repair
Drain Cleaning
Water Heater Repair
Water Heater Installation
Water Heater Maintenance
Sewer Line Repair & Replacement
Sump Pump Repair & Installation
Water Leak Detection
Repiping
24-Hour Emergency Plumbing Service
Plumbing System Maintenance
Gas Line Repair & Replacement
Ejector Pumps
Sewer pumps
Camera Sewer Line Inspections
and more
Our plumbing experts are ready to tackle any plumbing problem you are facing. We pride ourselves on providing friendly, affordable, and effective plumbing service you can count on. Call us anytime, day or night, weekend or holiday, and we will send an expert plumber right over!
Drain Cleaning Services
Don't let a clogged drain ruin your day. We understand the frustration and inconvenience that comes with a slow or completely blocked drain, whether it's in your kitchen sink, bathroom sink, tub, or shower. But fret not, because we're here to help! Our team of skilled plumbers specializes in tackling drain issues, armed with top-of-the-line equipment and years of experience. You can count on our team of plumbing experts to swiftly and effectively resolve your drain issues.
Water Heater Repair
Maintaining your water heater doesn't always have to be a major hassle. Often, simple fixes like replacing a faulty element can get it up and running again. However, there are times when more extensive repairs are needed. Whether it's a faulty heating element, a leaking tank, or inconsistent water temperature, we have the expertise to diagnose the issue accurately and provide efficient repairs. With our prompt and reliable service, we will have your water heater back in optimal condition in no time.
Water Heater Replacement
our existing water heater may have multiple or severe issues, indicating that it's time for a replacement. Water heaters have a limited lifespan, and over time, their efficiency declines, making problems inevitable. The decision to repair or replace your water heater often comes down to cost considerations. As a general guideline, it's advisable not to spend more than half the cost of a new water heater on repairs. Ultimately, investing in a new heater proves to be more cost-effective in the long run, sparing you from ongoing repair expenses. Our experienced plumbers will accurately diagnose the condition of your current water heater and recommend a replacement only if it's absolutely necessary.
Dependable Plumbing Service in Collegeville, PA
We take great pride in offering plumbing services that are both friendly and cost-effective, with a strong focus on effectiveness. If you find yourself facing a plumbing problem at home and require expert assistance, don't hesitate to reach out to us. We'll provide an accurate diagnosis and put in dedicated efforts to swiftly resolve your plumbing issues at a reasonable and competitive rate.