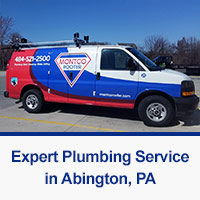 When it comes to plumbing issues, we understand that emergencies can happen at any time, day or night. That's why we offer fast and reliable plumbing services in Abington that are available 24/7, including weekends and holidays, at no extra cost.
Whether you need drain cleaning, water heater repair, or emergency plumbing repairs, Montco-Rooter Plumbing & Drain Cleaning has you covered. All you need to do is give us a call, and we will dispatch a highly skilled plumber to your doorstep to resolve the issue. We pride ourselves on delivering top-notch plumbing solutions that are fairly priced and of the highest quality. You can trust us to provide dependable plumbing services that will keep your home or business running smoothly.
Schedule your appointment now!
Call us at (484) 521-2500 or
Schedule Online
We offer a full range of plumbing services including:
Emergency Plumbing Service
Drain Cleaning
Water Heater Repair
Water Heater Installation
Leak Detection
Repiping
Sewer Line Repair
Gas Line Repair & Replacement
Sump Pump Repair & Installation
Ejector Pumps
Sewer pumps
Camera Sewer Line Inspections
Plumbing System Maintenance
and more
Our team of experts work closely together to best resolve and meet your plumbing needs. We strive to resolve an issue in the best way possible and as result our plumbers are encouraged to communicate with each other in situations when there are several ways to resolve an issue in order to make sure they have found the best option to offer you. We provide upfront pricing rather than hourly rates in order to provide you with the cost prior to the start of the job with no surprise hidden costs at the end.
Drain Cleaning Service
If you are struggling a slow or completely clogged drain in your Abington home, allow us to provide fast relief. Our friendly and licensed experts are ready to help 24 hours a day. From small clogs to large blockages, our drain clearing experts will be able to determine the cause of your issue and provide an effective solution to ensure your drains are back to working as they were meant to. No matter what is causing problems for your drain, we have the tools and experience to pinpoint the issue and make sure it's resolved promptly and correctly.
Water Heater Repair, Service and Installation
When the hot water stops flowing, you can count on Montco-Rooter for expert water heater repair, maintenance and replacement services. We have repaired, serviced and installed water heater heaters in many local homes and have seen it all over the years. If your water heater is acting up, give us a call and we'll get an expert over to your home as soon as possible for an accurate diagnosis and a fast, affordable resolution to your water heater troubles.
Friendly, Dependable Plumbing Service in Abington
Our plumbers are not only highly skilled and experienced, but they are also friendly, respectful, and professional. We will take the time to listen to your concerns, answer any questions you may have, and provide you with personalized solutions tailored to your specific needs. With our commitment to exceptional service and affordable pricing, we are confident that you won't find a better plumbing company in Abington.