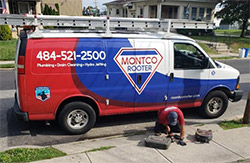 When it comes to plumbing services in Berks County, you can always count on Montco-Rooter Plumbing & Drain Cleaning. We take pride in providing skilled and efficient plumbing solutions to our customers. Our team of expert plumbers is not only highly qualified but also friendly and experienced. We understand the inconvenience that plumbing issues can cause, and that's why we offer prompt and reliable plumbing services 24 hours a day.
Whether you are in need of drain cleaning, water heater repair, replacement, or emergency plumbing services, our expert plumbers are just a phone call away. We offer 24-hour emergency plumbing services at no extra cost because we know that plumbing problems can happen anytime, day or night. Once you contact us, we will dispatch one of our skilled plumbers to your home immediately to diagnose the problem and offer the best possible solution to resolve your plumbing issues.
Schedule your appointment now!
Call us at (484) 521-2500 or
Schedule Online
Professional Plumbing Services
Emergency Plumbing Repair
Drain Cleaning
Water Heater Repair
Water Heater Installation
Leak Detection
Sewer Line Repair
Gas Line Repair & Replacement
Repiping
Water Heater Maintenance
Plumbing System Maintenance
Sump Pump Repair & Installation
Ejector Pumps
Sewer pumps
Camera Sewer Line Video Inspections
and more
We aim to provide a personal touch as you will talk with a team member when you call to schedule your service and will receive updates from him/her as you await the arrival of your plumber.
Drain Cleaning Services
Dealing with a clogged drain can be a real nightmare, no matter where it is - the kitchen sink, bathroom sink, shower or bathtub. At times like these, you need a reliable plumbing company that can provide a quick and effective solution to your clogged drain problems. Our skilled plumbers have the experience and advanced equipment needed to unclog your drains, so you can rest easy knowing your drainage issues will soon be a thing of the past. No matter what is causing problems for your drain, our drain clearing experts will pinpoint the issue and make sure it's resolved promptly and correctly.
Water Heater Repair & Replacement
If you're facing hot water issues, we've got you covered with our exceptional water heater repair, maintenance, and replacement services. Over the years, we've gained vast experience in repairing, servicing, and installing water heaters in numerous homes in Berks County. Our team of skilled professionals has seen and handled it all when it comes to water heaters, and we're dedicated to providing reliable and cost-effective solutions to ensure that you always have access to hot water when you need it. Whether you're experiencing a minor issue or require a full replacement, we'll use our expertise and the latest equipment to restore your water heater's optimal performance in no time. You can trust us to provide top-notch water heater services that will leave you completely satisfied.
Fast Plumbing Service in Berks County
We serve communities throughout Berks County, including: Amity Township, Bern Township, Birdsboro, Boyertown, Exeter Township, Hamburg, Muhlenberg Township, Reading, Shillington, Spring Township, Wyomissing, and more.